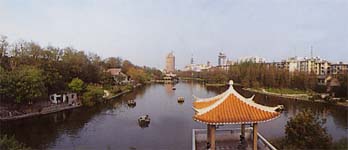 Lying between the Yangtze River and Huaihe River, Hefei is the capital city of Anhui Province and is ranked as one of the fifty strongest cities in China. Close to the coastal area, Hefei plays an important part in connecting the eastern and western areas of China while also linking the south and the north. Covering an area of 7,266 square kilometers (about 2,805 square miles), Hefei is known as the central tourist city of the whole province.
The ancient Hefei City, with a long history of over 2,000 years, was also nicknamed 'Luzhou' or 'Luyang' because it was under the governance of Luzhou prefecture in the Ming (1368 - 1644) and Qing (1644 - 1911) dynasties. Hefei is the political, economic and cultural center of Anhui Province and has played an important role in commercial transactions since ancient times. Due to its good surroundings and long history, many natural and cultural places of interests can be found in Hefei. The most famous one is undoubtedly the Memorial Temple of Lord Bao.
Hefei is a beautiful city with good surroundings - the Huaihe River flows to its north, to its south is Yangtze River, and to its south- east lies the Chaohu Lake with its expansive blue waters. It exemplifies the good climate to be found in the area having a mild climate with clearly defined seasons and moderate rainfall. The average annual temperature is 15.7 C (60.26F). As is known, every city in China has a city tree and a city flower and, in the case of Hefei, the Yulan tree is its city tree and the sweet-scented osmanthus, pomegranate flower is its city flower.
To better understanding the ingrained culture of Hefei, you have to watch the performances of the Lu Opera. Lu Opera is a popular local opera which originated in Hefei. It became an independent style of opera in the era of Emperor Jiaqing of the Qing Dynasty and evolved from many artistic forms such as folk songs and folk dances. The arias are rich and various, and the performance is vivid. 'Natural and simple' is what makes Lu Opera a popular drama appreciated by all. It is really a highlight you should never miss when visiting Hefei.
If you are one of those people who regard food as their prime requirement, you should try the local delicious food and special cuisine which is on offer, whenever you pay a visit. Luzhou Roast Duck is the first recommended delicacy in Hefei and it tastes very good. Other special, high quality products will also satisfy your appetite such as Mabing (sesame cake), Honggao (baked cake), Cunjin (sesame cookie) and Baiqie (white sesame slices). Also, dumpling-making in Hefei is a delicate and intricate process and, there are various shapes of dumplings that will excite and satisfy your appetite.
Hefei is located in the centre part of East China, and its transportation system is well-developed. With the whole city's transportation system linked by airport, railway and highway, a solid transportation network is at your service. Due to its fast development in recent years, transportation within and around Hefei is very convenient, especially for tourists.
Hefei is a scientific and educational city and boasts of many talents both past and present, such as the famous upright officer Lord Bao in Northern Song Dynasty (960-1127) along with the Nobel Prize for Physics winner, Yang Zhenning, whose hometown is Hefei. The University of Science and Technology of China, and the Hefei Branch of the Chinese Academy of Sciences are both located in Hefei. There is no doubt that talented people in Hefei are foremost in China.

Universities in Hefei